Mattresses
We look after the sleep and the planet at the same time
ENKEV is constantly developing ideas and products for our traditional furniture and related markets. We are combining our natural materials with modern automated processing techniques.
Working together with mattress manufacturers who aim to provide the best in comfort, support, and design for the body; at the same time ENKEV's natural solutions provide the best for the environment. Our products, made of natural fibres offer organic ventilation, elasticity, durability and resilience. In addition, their capillary properties ensure a natural micro-climate that regulates the temperature and moisture for optimum comfort in the warm summer or cool winter months.
Check out our mattress configurations
We have combined sustainable materials with market-leading techniques to bring you the highest quality mattresses that best suit the needs of your market. Explore the different mattress configurations available at ENKEV.
Choose and personalise your mattress
Comfort and support of a bed is the most important thing for the rest of a human body. This comfort comes from the filling, insulation, regulation and core of the bed. You don't need to compromise to find sustainable comfort and durability. When using the right materials, you can provide your customers with the perfect night's rest.
Comfort Layer
For a comfort layer fluffiness, softness, ventilation and the regulation and control of moisture are very important. It's placed right underneath the ticking of the mattress.
Filling layer
Natural hair provides the ideal filling material; due to it's luxury feel, support, resilience and ventilation properties.
Core Layer
The comfort and support from a bed is the most important thing for the human body. This comfort comes from the core of the bed, when chosen the right materials and density it should provide the bed with sufficient support and durability to provide your customers with a perfect night's rest.
Insulator Layer
The insulator should be strong and have some 'mass' to either divide pressure or to protect the softer comfort layers/filling materials from 'hard' materials like springs.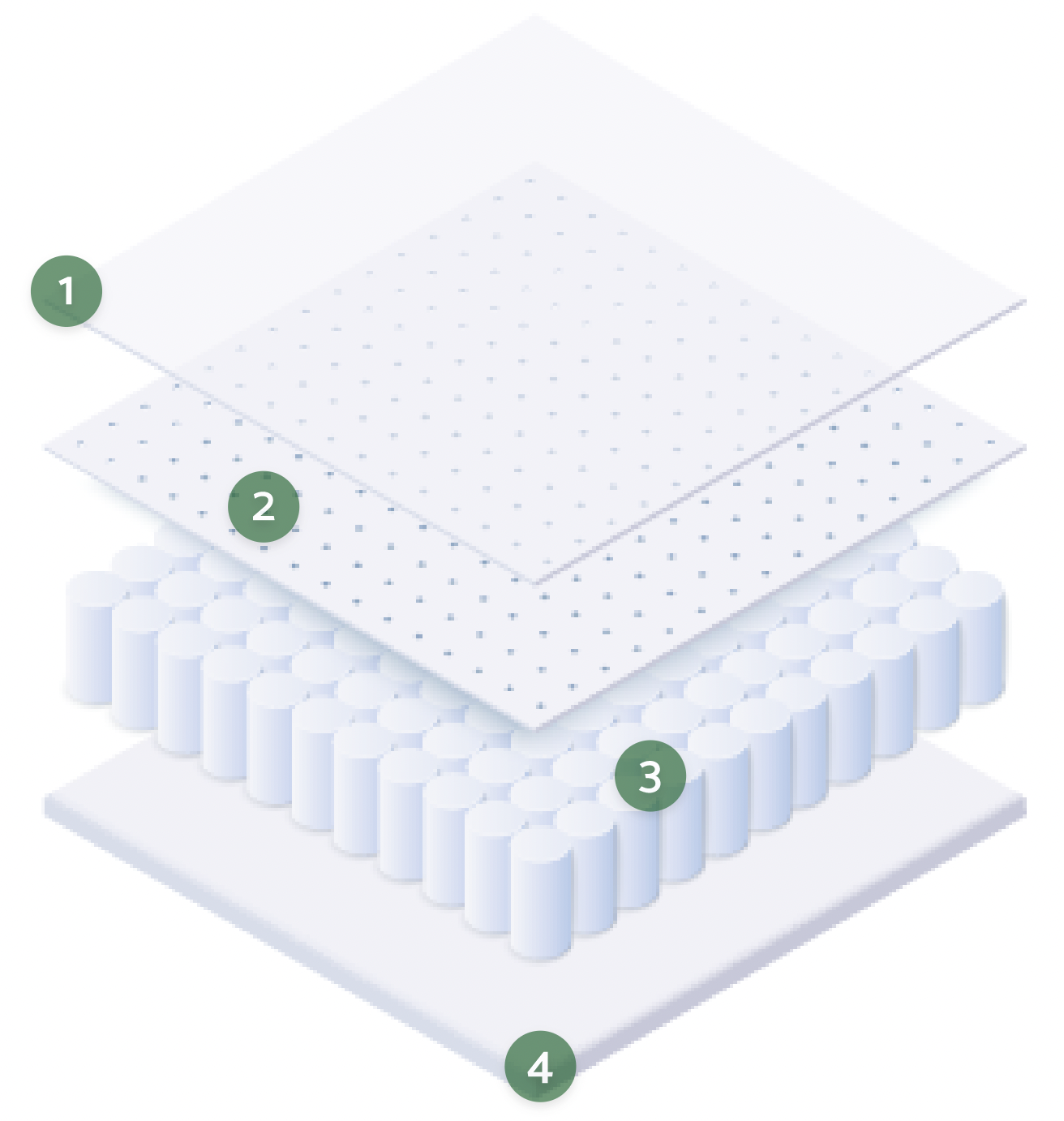 Browse our mattress configurations

Nature helps us to create new materials, which doesn't harm us or the planet. All of our products are made from raw materials and natural latex.
Natural Luxury

LGA durability rating: 93 points.

Texel wool thermo-bonded 500gr /m2 (quilted in cover) / 25mm

Taillok XXE D50 / 25mm

Springs End-to-End with pp fleece insulator / 150mm

Hairlok  D60 / 20m

Total Height: 220mm

Natural Luxury VEGAN

LGA durability rating: 96 points.

Havibond cotton 500gr/m2 (quilted in cover) / 20mm

Cocolok XXE D60 / 25mm

Springs End-to-End with pp fleece insulator / 150mm

Cocolok XXE D60 / 25mm

Total Height: 220mm

Natural Latex

LGA durability rating: 88 points

Wools of New Zealand  fleece wool 400gr (quilted in cover) / 5mm

Natural Latex density 65 / 60mm

Cocolok D 60 XXE / 50mmLatex density 65 / 60mm

Total Height: 175mm

The Circular

LGA durability rating: 99 points

Labyrinth 100 - D50 / 30mm Mini pockets  / 45mm

Springs End-to-End with pp fleece insulator / 150mm

Recycled felt 1000gr/m2 / 5mm

Total Height: 175m

Natural for All

LGA durability rating: 99 points.

Latex / 30mm

Mini pockets / 30mm Hairlok D70 / 10mm

Springs + pu foam encasing / 150mm

Hairlok D70 / 10mm

Total Height: 240mm
Comfort Layer
Filling Material
Insulator Pad
Core Material